Welcome to Alt Innovate, each month we bring  you Top 10 things you can 3D print or get 3D printed for yourself. The "Top 10 things series" is focused on showing different aspects of 3D printing such as Usefulness, Effectiveness, use of 3D printing in Education, day-to-day life, arts and crafts and more.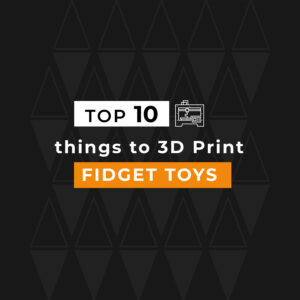 Theme:
For the month of September 2022, our posts revolved around the theme of "Fidget Toys". 
Let's Explore Fidget Toys
Have you ever found yourself bored? Stressed? Anxious?
Fidget toys are a great way to focus and relieve stress and anxiety. They are also useful tools when trying to improve your mental focus and concentration. Providing comfort, and mental focus, and helping elevate the symptoms of stress and anxiety.
Let's look at some of the ways that 3d printed fidget toys help you with the same! 
(*the above paragraph was created using Ai)
Checkout our list of cool "Fidget Toys" below, some of the products are designed by other creators and we have correctly attributed and shared their link if you want to check it out.
1. Gear Shift Fidget: This one is for the gear heads out there. Miss Shifting through the gears in your car? Get this cool fidget toy and cycle through the gears as much as you wish. The design is made by: Michal Fanta. You can get it 3D Printed at Alt Innovate.
2. Rotary Engine Spinner: Another one for the gear heads, but anyone can enjoy this. A cool Fidget spinner with engine blocks on it. This Fidget spinner is designed by: Michal Fanta.
Get yours 3D Printed with us at Alt Innovate.
3. Clicker: Love clicky wheels? Get this cool fidget toy with a satisfying clicky gear. Happy Clicking! This fidget clicker is designed by: BaGooN. Get yourself a 3D Printed fidget clicker at Alt Innovate.
4. Macro jack: This little fidgety jack might not be able to lift much but it's surely satisfying to gear it up and down. The design is made by: Strider Varun. You can get it 3D Printed at Alt Innovate.
5. Arc flipper: This fidget toy is a fun handheld game. Flip the flippers and watch the bib bounce back and forth. This arc flipper is designed by SteveJohnsen. Get yours 3D Printed with us at Alt Innovate.
6. Bistable fidget button: This fun fidget toy combines the satisfaction of a button press and a lever squeeze in one palm-sized fidget. This fidget is designed by: 6 safpep. Get yourself a 3D Printed fidget button at Alt Innovate.
7. Geared Fidget toy: There is something so satisfying about just watching this fidget toy converting the linear motion of your fingers, making the flag rotate and back and forth. This toy was designed by mmOne. You can get it 3D Printed at Alt Innovate.
8. Knocker: Enjoy the knocking sound of this 3d printer knocker fidget. (warning: keep away from children). This knocker was designed by TN 3D-Objekte. You can get it 3D Printed at Alt Innovate.
9. Clicker: Entertain your fidgety fingers with this clicker making a nice click sound. This Clicker is designed by SHR3D.eu. You can get it 3D Printed at Alt Innovate.
10. Gear Fidget toy: This geared roller has a really satisfying feel when you roll it in your hands. This gear fidget is designed by Whity
*Check out these products in action on our Instagram account.
This concludes our Top 10 things to 3D print for the month of September, we hope you enjoy 3D printing & playing with these products as much as we did. You can get these fidget toys 3D Printed at Alt Innovate. 
Let us know what's your favourite product, have any suggestions for us or themes in mind you would want to see, reach out to us with the link below and our team will get back to you!
Print Now with us! Has this article excited you, but don't own a 3D Printer yet download a file from one of the CAD file sourcing places and send it to us for your first 3D printed file.
——————————————————————————————
Like what you read? Follow us on all our social media platforms to see new and exciting news and updates we have to share with everyone. This is a great way to stay up-to-date with the latest trends and exciting projects we do here at Alt Innovate.